April 21, 2022 | Vol. 21-22, No. 26

INDIE Film Festival Coverage and Photos Below
A MESSAGE FROM OUR HEAD OF SCHOOL

Andrew Webster, Head of School, has noticed A Little Spring in Our Steps and he shares those positive thoughts in his April blog post. Below is an excerpt:

In terms of the weather, Spring has offered a halting sort of rebirth, but trees on campus are beginning to flower and there an undeniable sense of renewed energy is palpable. In fact, recent weeks have given us several examples of a return to our usual spirit and some fine exemplars of the meaning of our school mission.
FRIDAY, APRIL 22
Earth Day - Lower School Events Throughout the Day
Eighth Grade Returns from Class Trip to Washington, D.C.
Seventh Grade Returns from Class Trip to Philadelphia
Sixth Grade Returns from Class Trip to Frost Valley
SATURDAY, APRIL 23
9:30 a.m. - 1:30 p.m. - Summer Programs Open House
6:30 p.m. - Parents' Association Spring Gala
THURSDAY, APRIL 28
8:00 a.m. - World Language Honor Society Induction Ceremony in Berry Performing Arts Center
7:30 p.m. - Upper School Spring Concert in Berry Performing Arts Center
FRIDAY, APRIL 29
Third Annual Ram Run - various times - see details below
4:00 p.m. - Booster Club Spring Games on Athletic Fields and Tennis Courts
BUSY APRIL LOADED WITH EVENTS

The very busy home stretch of the 2021-2022 school year continues. Below is a look ahead to major school events in the rest of April:

April 21 – College Counseling Financial Aid Workshop – 7:00 p.m. - see details below

April 22 – Earth Day – All Day

April 22 – Middle School Students Return from Trips

April 23 – Summer Programs Open House – 9:30 a.m. to 1:30 p.m.

April 23 – WHPA Spring Gala – 6:30 p.m.

April 28 – World Language Honor Society Induction Ceremony – 8:00 a.m.

April 28 – Upper School Spring Concert – 7:30 p.m.

April 29 – Third Annual Ram Run – Various Start Times

April 29 – Booster Club Spring Games – 4 p.m.
INDIE FILM FESTIVAL SHOWCASES

STUDENT CREATIVITY, COLLABORATION

After a three-year hiatus, the INDIE Film Festival made a triumphant return to Wardlaw+Hartridge on April 14.

Upper School students, joined by their family and friends, enjoyed a full evening of festivities similar to the Academy Awards with guests dressed in formal attire. The event began with a "mocktail hour" in the AP Room including stationary and passed hors d'oeuvres prepared by Sage Dining Services. A three-man band of students David Flatau-Jones '23, Charlie Silver '24 and Luke Tan '24 provided musical entertainment.

Filmmakers and guests walked the red carpet on their way to the Berry Performing Arts Center, posing for photographs along the way. After the guests were seated in the PAC, co-hosts Izabel Korycki '22 and Zain Zaidi '22 welcomed everyone and introduced the judging panel, which included Middle School history teacher Jeffrey Martin and recent W+H graduates Mayah Nissim '20 and Sahil Mulji '20, who were award winning actors in their final year of Upper School.
SIXTH GRADERS ENJOY HAIKU HIKE

Sixth grade students in the English class of Dorri Ramati recently began a study unit on Haiku poetry. They took advantage of some beautiful spring weather and went outside to take some photos of nature, and then sit quietly for about 15 minutes to write down what they heard, felt and thought.

These inspirations will lead to the creation of some Haiku poems based on that time in nature, and the students will pair them with their photos. Ms. Ramati noted it was a lovely activity and that the students really enjoyed it, once they learned how to be quiet in nature!
FIFTH GRADERS STAGE GREEK PLAYS

This week, fifth graders performed four classic Greek stories for our annual Greek Play Festival. The students worked for six weeks to read their assigned story and adapt it into a script. Then came the performance part of the process, which including blocking, directing and staging the show.

The stories of Theseus and the Minotaur, Perseus and the Gorgon, Jason and the Golden Fleece, and the Trojan War were featured. Each group handmade elaborate props and set pieces and sourced their own costumes. The Greek plays are always one of the highlights of the fifth grade experience at Wardlaw+Hartridge.
1ST GRADE FACULTY GET THEIR TEACH ON

First grade faculty members Jennifer Molloy and Bethany Howell traveled to North Carolina over Presidents' Day weekend to participate in the Get Your Teach On Workshop in Charlotte, NC.

Get Your Teach On is a professional development opportunity for PreK-Grade 12 teachers and school administrators to spend time with other faculty members who share their passion and enthusiasm for education. These professionals provide tips, best practices and teacher secrets for building a successful, engaging and rigorous classrooms.

The W+H teachers attended specific workshops run by fellow educators designed for Kindergarten through Grade 1. They collaborated with other teachers and learned new strategies to create interactive experiences in the classroom.

Already equipped with a strong first grade program and curriculum, Mrs. Molloy and Mrs. Howell added to their repertoire and implemented some of the strategies they learned with their students. For example, during a reading activity in March, students were each given a container of Play-Doh before the class read a story. They stopped at different times throughout the story and students answered questions using their Play-Doh, including the creation of the main character in the story.
UPPER SCHOOL ATHLETE OF THE WEEK

Karl Miran, Athletic Director, announced the Upper School Athlete of the Week. Congratulations to golfer Claire Lu '24.

Claire has led the team to a 5-0 dual meet record as well as a tournament win. Her scores have been 1-under par, 1-over par, 1-under par and even par 72 in the Red Devil Classic. Claire finished second in the individual tournament and the Rams won the team tournament. She is currently ranked No. 2 in the state.
MIDDLE SCHOOL ATHLETES OF THE WEEK

Karl Miran, Athletic Director, announced the Middle School Athletes of the Week. Congratulations to softball player Jayda Richter '27 and tennis player Ryan Bokina '26.

Jayda is developing into a more complete player every day, as she improves her throwing, defensive skills, and her batting. Her enthusiasm and effort every day is what coaches mean by the term "giving 100 percent." She been willing to try new positions on the field and the coaching staff is very happy with the progress she is making.

Ryan led our team in singles against Piscataway and played a strong match against their top player, winning 8-2. Our top player, Ryan is also a fine example of a team leader. After his win, he cheered on those still playing their matches.
COLLEGE COUNSELING EVENT TONIGHT! LEARN HOW TO PAY LESS FOR COLLEGE

We know that college affordability is critical to student success so we're providing our families with resources from the experts at SMARTTRACK® College Funding.

If you have a college-bound 9th, 10th, or 11th grader and are concerned about how best to pay for college, and want to pay less, don't miss our important parent webinar What You Need to Know NOW about Paying Less for College.

Date/Time: Thursday, April 21, 2022 at 7 p.m.

There is no cost to attend but Pre-Registration is required.
JOIN US FOR THE RAM RUN - APRIL 29

The Wardlaw+Hartridge Board of Trustees is proud to announce the third annual W+H Ram Run on Friday, April 29. All students are invited and encouraged to participate in this Fun Run/Walk. It is a chance to come together by division and have fun and raise money.

The funds raised by this event will help to provide scholarships and grants, purchase new equipment and technology for academics, support athletics, and service learning opportunities and community outreach for our students. This event is open to all students and participation is free.

Lower School information is below and Middle School logistics and details will be shared via email on Monday, April 25.
SIGN UP TO PLAY! - GOLF OUTING - MAY 19

Come join us at nearby Colonia Country Club for a wonderful day of golf including lunch and an afternoon reception on Thursday, May 19. The event begins at 11 a.m. with a reception to follow at 4 p.m.. If you're unable to golf, reception only tickets are available. Pay online with the following link:
CHECK OUT W+H SUMMER PROGRAMS

Wardlaw+Hartridge will offer a robust array of summer programs in 2022!

The year's offerings include Camp Funshine, Adventure Camp, Brain Boosters Junior Academics, Summer Scholars, Teen Leadership Camp and Summer Sparks Enrichment. Other special camps including Everything Theater and Dungeons & Dragons will also be held.

There is one more virtual open house session coming up on Saturday, April 23 from 9:30 a.m. to 1:30 p.m.
MIDDLE SCHOOL TRIPS UNDERWAY!
From the W+H Parents' Association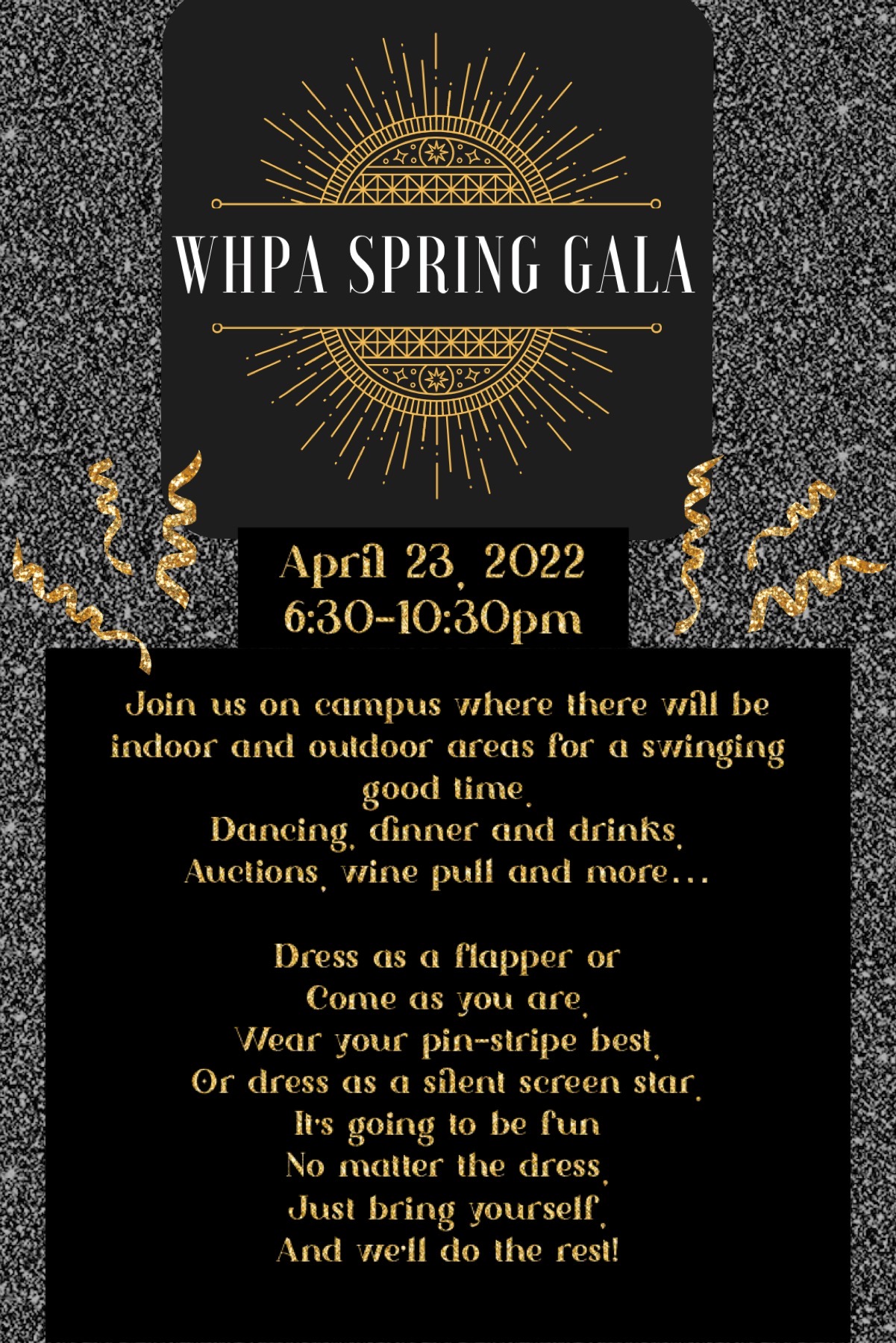 Spring Gala Auction Features Items for Everyone!
Hello Fellow W+H Families,
Thank you all so much for your support and help with the Annual Spring Gala. We know not everyone can attend, but you can still get in on the action and win a great prize or two! You can bid remotely from anywhere on all the fabulous auction items as well as the Lower School class projects!!
You simply need to register at WHSpringGala22.givesmart.com and then follow the instructions below.
The auction items are now available to preview here. There is something for everyone at various price points and you can add them to your watch list!
Thank you all so much and make sure to BID HIGH AND BID OFTEN - all for a great cause - our children and faculty :)
Stay well!!
~~~~~~~~~~~~~~~
Instructions:
The Silent Auction is done via mobile bidding. Once registered you will receive an automated welcome text.
Bidding will start at 6:3 0p.m. and end at 10 p.m. Log in via the link found in the text message and confirm your name is correct. You will then see all the items available. You can bid the next increment, set a maximum bid, or simply "Watch" packages. If you enter the highest maximum bid on a package, the system will automatically place bids in your favor until your maximum bid is reached or until the silent auction closes. If your bid is lower than the highest maximum bid on the package, you will be prompted to enter a higher bid.
To place a straight bid, turn the maximum bid feature off.

To make a general donation, select the Donation button on your home screen and choose a pre-set amount or select the Custom Amount button to enter the amount you wish to donate and select OK.

During the evening if you are outbid, you will be notified via text message.

You can keep an eye on packages you've bid on or are watching by selecting the menu button and selecting "My List."
As soon as the silent auction closes, the guest with the highest bid will win. You can check your winning packages under MY LIST. You can then make arrangements for picking up your item(s) by emailing parents@whschool.org.
Giving Thanks for our Wardlaw+Hatridge Fund Parent Donors
The Development Office would like to thank the W+H community for supporting The Wardlaw+Hartridge Fund. Click here to view a list of W+H parents who have contributed to The 2021-2022 W+H Fund between July 1, 2021 and April 20, 2022.
Reminder to Parents: Re-enrollment Contracts Due
This is a friendly reminder to families who have not yet submitted their re-enrollment contract and non-refundable deposit for the 2022-2023 school year. Please contact the Admission Office at 908-754-1882, Ext. 155 or email admission@WHschool.org if you would like us to resend your parent portal authentication code and enrollment contract link. We are here to help you complete the enrollment process and answer any questions you may have. We wish you and your family the best of health and we look forward to seeing you in the upcoming year!
Attention Parents! Order Your W+H Yearbooks Now!
The 2022 W+H Yearbook is available to order for $49. All Upper School students will receive yearbooks in June. Middle and Lower School students must purchase yearbooks.
Follow W+H on Social Media and Share News with Community
Wardlaw+Hartridge has a vibrant, active presence on social media with daily content posts highlighting our academics, athletics, arts and extracurricular programs.

Follow us on Facebook, Instagram, Twitter and LinkedIn and check out our Vimeo page! You can assist us in promoting the school by sharing our content within your network and posting it on your local town pages and feeds.
THE WARDLAW + HARTRIDGE SCHOOL
www.WHschool.org